04 December 2023
Apple Sessions by iShop
Ishop by Leal launches the #AppleSessions, exclusive Apple training for Apple users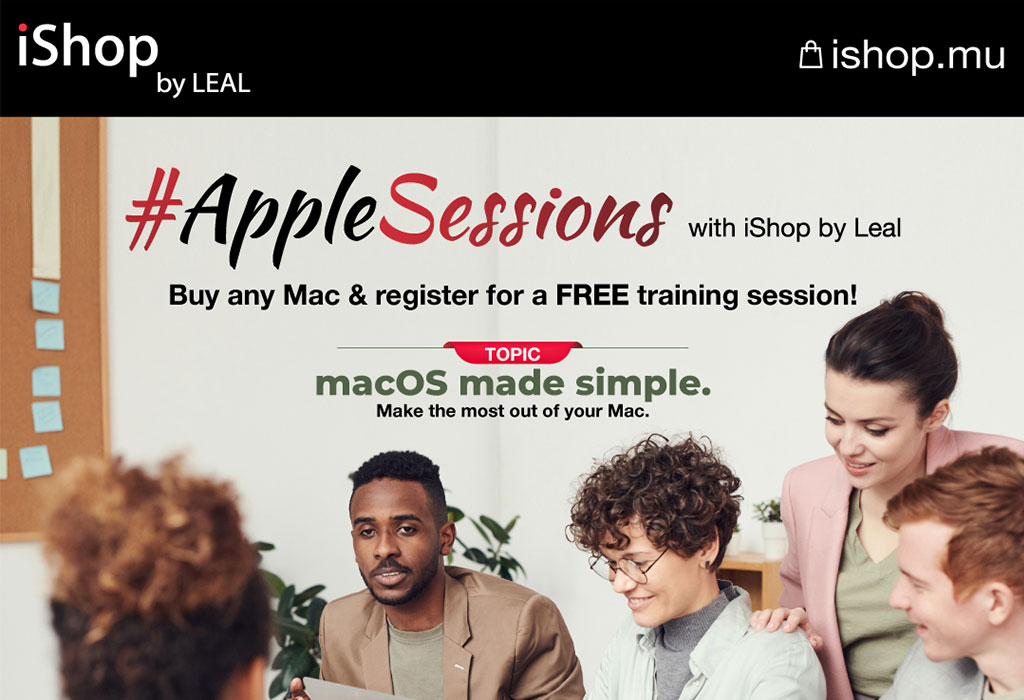 Re: iShop by Leal launches the #AppleSessions, exclusive Apple training for Apple users
iShop by Leal is pleased to announce the kick-off of its #AppleSessions. These are training programmes for Apple device users. From learning about hidden features and shortcuts to boosting productivity and creativity, the Apple Sessions promise to be a game changer for Apple Enthusiasts.
This initiative aims at helping our customers optimise the use of their devices by learning about its environment. This is where they get to understand the true value of their investment. These sessions will transform the way Apple users work, create and communicate.
We understand that for many users, Apple's innovative technology can sometimes seem overwhelming, especially for those who are new to the plaForm. This training session is an opportunity for users to bridge this knowledge gap and equip themselves with the skills they need to get the most out of their Apple equipment and above all, master them.
Our dedication to providing top-notch service and support goes beyond the initial purchase. We believe that by imparting the right Apple knowledge to our customers, we enhance their Apple experience. The Apple Sessions is a huge opportunity for us to make our customers delve deeper in the amazing ecosystem that Apple has to offer. Participants will be guided by iShop's Apple Experts, for an enriching and interactive learning experience.
Our inaugural Apple Sessions series has kicked off this month with "macOS made Simple", an immersive macOS training designed to help users make the most out of their Mac devices. Participants will learn the following:
•Mastering macOS: Gain a comprehensive understanding of macOS's core functionalities
•Productivity Power-Ups: Learn keyboard shortcuts, gestures, and time-saving tricks that will supercharge their efficiency and productivity.
•Seamless Integration: Discover how Mac seamlessly syncs with other Apple devices, enhancing their digital ecosystem and facilitating smooth transitions between work and leisure.
Along with many other essential tips, tricks, knowledge, and skills that will enable a seamless navigation on their Mac devices.
Who can participate?
(1) Anyone who purchases or has purchased a Mac (iMac/MacBook Pro/MacBook Air) at iShop by Leal since January 2023.
iShop by Leal's Team is looking forward to launching other exciting training programmes around Apple in the very near future.
About iShop by Leal
iShop by Leal is an Authorized Apple Reseller and Service Provider since 1999. We operate 4 stores across the island: Barkly Wharf- Le Caudan Waterfront, Phoenix Mall, Coeur de Ville Tamarin, and Coeur de Ville Grand Bay, all designed as per Apple's guidelines and standards. We are dedicated to offering an uncompromised customer service and support. Now even more with the Apple Sessions, nurturing a strong community of passionate Apple users.
Cookie Preferences